Trend Analysis
| | | |
| --- | --- | --- |
| Demographics | 1998 | 2017 |
| Area SqKms | 1586 | 1586 |
| Population | 434563 | 757810 |
| Population Density / SqKm | 274 | 478 |
| Urban Population | 44335 | 40373 |
| Rural Population  | 434563 | 757810 |
| Total Housing Units | 53382 | 89695 |
| Housing Units having Electricity | 8071 | 31178 |
| Housing Units Having Piped Water | 6315 | 5225 |
| Housing Unit using Gas for cooking | 641 | 20002 |
Source: Pakistan Bureau of Statistics
Outline
Nestled between districts Swat and Battagram lies one of the most visibly attractive regions of Pakistan, District Shangla. However, this district happens to occupy a place among the least developed areas of Pakistan, with a Human Development Index of 0.332. With Pakistan aiming to gallop at a rapid pace in the next two decades to enter the league of developed nations, it is high time that Shangla district, along with others, utilize its maximum potential to stimulate regionalgrowth.
For this to happen, the Provincial Government of KP has to assist the local administration in uplifting the traditional sectors of agriculture and forestry –– from subsistence to commercial farming. It will have to gradually build up the local capacity to generate revenue through eco-tourism and through supplying natural growing pharmaceutical ingredients. Eventually, the entire local population would be able to use the benefits of these projects to shore up their living standards. As per report shared by PEDO, the District also has investment potential in hydropower generation at Ghor Band Khwar with 20.6 MW capacity, the feasibility study for the project has already been prepared. PEDO has also identified semi raw site at Bilkanai with capacity of generating 7.75 MW power. According to Pakistan Stone Development Company (PASDEC) data, 1,950 million tons of Marble and Serpentine reserves also exist in the district. There are few quarries in the district but no processing units are operating there, thus presenting opportunity to establish processing units with the help of public sector resulting in job creation for the locals.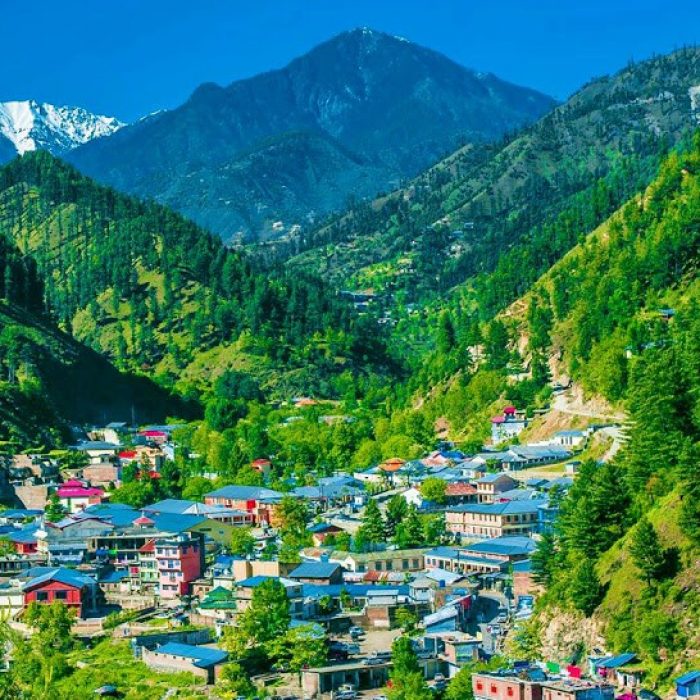 1.

Agriculture, Horticulture and Forestry
Snapshot
District Shangla has 41,128 hectares of cultivated area and 96,306 hectares of non-cultivated area. Like Buner District, farming in Shangla is also rain fed (almost 98% of it). Which means that the area is not conducive for the growth of water intensive crops. As per Earthquake reconstruction & rehabilitation authority report published in 2007, Mushrooms of export quality area were also cultivated in Shangla. Therefore, farmers mostly plant wheat, maize and different variety of vegetables (potato, brinjal, beans, tomato, pumpkin, lady finger etc.) and fruits (apple, walnut, plum, pear, peaches, mango, guava, persimmon, citrus, banana and apricot etc.). Additionally, there is a vast acreage of forest cover in the district that is a source of tree wood for furniture products and fuel for the locals. Some of this forest land is also owned by the residents of the area. Shangla district covers 44,405 hectares of forest area. As of now, farming products and tree wood from the forest are being used only for subsistence purpose and there is no commercial base for these items.
 Strengths
Production of different variety of food and vegetable.

Multinational brands could be facilitated to sell farm products.

Export quality Mushrooms are grown in Shangla.

The area in the green forests can be offered to international organizations for Carbon trading.
Opportunities
Agriculture and Forestry sector is the mainstay earnings provider for the local population, since majority of the labor force in the district is associated with it (about 70-80% of the employed work force). Going through the land use and agricultural products figures above, following opportunities are identified for development of this sector:
There is plenty of cultivable area still available which can be used for farming or forestry purposes. This will not allow local industry to move from subsistence to market economy and allow employment openings to unemployed labor force.

The forest trees can be used to earn carbon credits internationally, which would not only create income earning opportunity for locals but would also ensure forest cover remain intact and grow gradually.
 2.

Pharmaceutical Ingredients
Snapshot
Shangla District provides a natural habitat for a number of essential plants and herbs, used in pharmaceutical industry. Some of these are Tarkha, Unab, Banafsha, Mushkibala, White Rose, Mint etc.
Strengths
Availability of natural herbs to be used in pharmaceutical industry.
Opportunities
There is a great opportunity for Shangla District to develop into:
A regional supply hub of pharmaceutical ingredients, in the short run.

A pharmaceutical hub of KP where all the leading pharmaceutical companies would have their operational plants, in the long run, provided the region develops at par with modern standards.
3.

Tourism and Hospitality
Snapshot
Shangla District, like neighboring Swat, has an exotic landscape that can charm any visitor. Ancient relics from Greek and Hinduism are also found in the region at Pirsar, Chakesar and Martung.
Additionally, the area has a variety of rare Fauna like Markhur, Brown Bear, Leopard, Snow Leopard, Wolf, Monkeys, Pigeon, Dove, Chakor etc.
As per reports published in various dailies, the lush green slopes and valleys of Shangla present a charming view for the tourists. There are well known tourist spots like Shangla Top, Jaba and Bishigram.
Four camping villages have been set up by the KP Tourism Department at Yakhtangi, Pirsar, Bishigram, Sheikh Badin and Sharan. These camping pods can accommodate 40 to 50 tourists at a time and they have been equipped with kitchen facilities and play area for kids. Tourism Department also plans to set up a tent village in these spots.
 Strengths
Enchanting scenery that captivates the tourists round the country.

Attractive tourist spots available to uplift tourism industry in the district.

Ancient remains which may attract tourists.
Opportunities
The scenic and historically significant Shangla District provides splendid opportunities to both local economy and Provincial Government to earn substantial revenue from seemingly underused tourism potential of the area. Following is of importance here:
Region is blessed with an exotic combination of scenic valleys, snow-covered hills, dense forests, cool springs and soft streams. Plus there is wide variety of Fauna. So there is potential for Eco-Tourism.

In addition, there are natural spots for tracking and rock climbing.

There is also potential in Archaeological Tourism, given the remains of Alexander's army in the area and other artifacts.

The climate of the area is not of extreme nature, however upper part of Shangla gets cold during winter. Such conditions make an ideal spot for tourism all year round.

Prominent places to visit in Shangla includes Shangla Top (70001 feet); Pirsar and Daut (area where Alexander the Great stayed for a few days); Qalander-Ajmair (remains of Hindu Shahi period) Yakhtangi (6000 feet); Chakaisar and Karora.
 4.

Conclusion
Shangla district is full of opportunities for the investors but if these opportunities are availed properly while addressing the above mentioned threats with proper planning and coordination of all the concerned stakeholders, the district economy can grow excessively.
---