North Waziristan District
Trend Analysis
| | | |
| --- | --- | --- |
| Demographics | 1998 | 2017 |
| Area SqKms | 4707 | 4707 |
| Population | 361246 | 543254 |
| Population Density / SqKm | 77 | 115 |
| Urban Population | 278159 | 434603 |
| Rural Population | 83087 | 277060 |
| Total Housing Units | 18595 | 25595 |
| Housing Units having Electricity | 10368 | 21968 |
| Housing Units Having Piped Water | 9525 | 10525 |
| Housing Unit using Gas for cooking | 923 | 1523 |
Source: Pakistan Bureau of Statistics
Outline
The North Waziristan borders in the north with Kurram and Kohat, in the east with Kohat and Bannu, in the south with the South Waziristan and in the west with Afghanistan. The district is the second largest in previous FATA, with an area of 4,707 square kilometers.
The district presents huge potential in mining sector as huge reserves of Copper has been identified while Chromite, Manganese reserves are also available. Furthermore, oil and gas reserves are also being explored by KPOGCL and it is expected to add towards growth of North Waziristan in near future.  Miran Exploration Block is located in North Waziristan and Kurram agency. Investment opportunities for local and foreign companies in E&P are available via joint venture.
South and North Waziristan are both highest producers of pine nuts (Chalghoza) and Pakistan is reported to be the second highest exporter of pine nuts after China. However, due to lack of training in harvesting, cutting, roasting and processing there is high percentage of wastage. Value addition in pine nut handling is strongly recommended.
---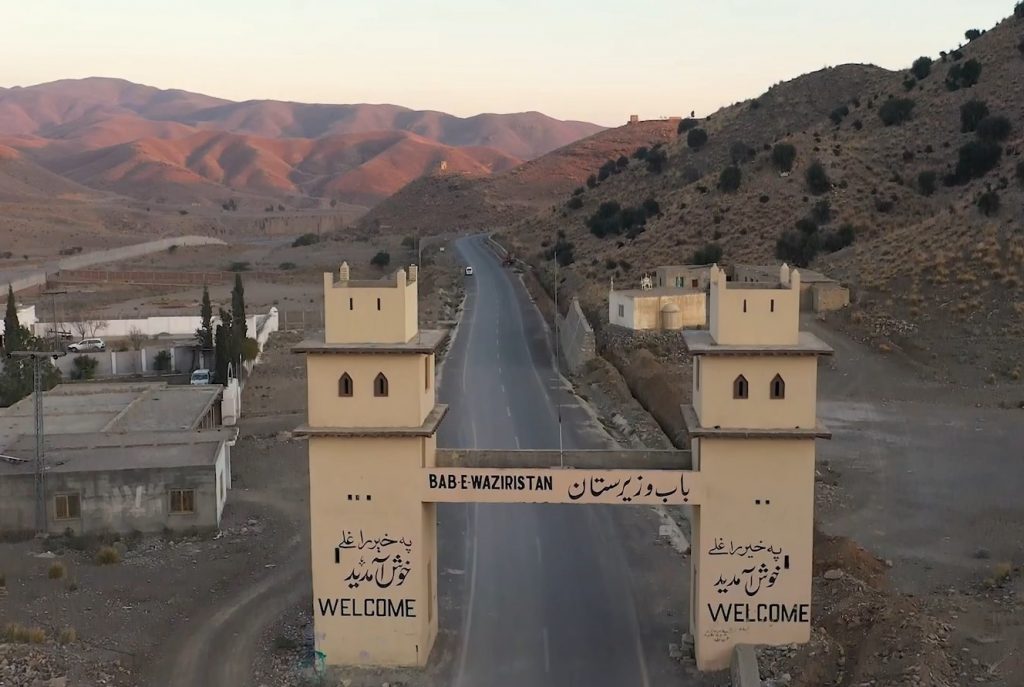 1.

Minerals
Snapshot
MINERAL POTENTIAL (Million Tons)
| | | | | |
| --- | --- | --- | --- | --- |
| Manganese | Chromite | Copper | Magnesite | Granite |
| 0.05 | 1 | 35 | Inexhaustible | Inexhaustible |
source: http://fatada.gov.pk/minerals-sector-projects/
North Waziristan district has a relatively competitive mining sector as compared to agriculture as illustrated in table above.
Strength
Rich reservoirs of minerals found in North Waziristan, presenting ample opportunity for investment and value addition in mining and processing of these minerals.
Opportunities
As per the record of FATA Development Authority, North Waziristan district holds significant quantity of Chromite and Copper. If given proper attention, mining and processing sector of North Waziristan could become a potent force in the world market, and lead the entire region to the path of socio-economic development. Chromite deposits of North Waziristan must be considered from a regional standpoint that could enable Pakistan to become a major exporter of Chromite and /or ferrochrome.
In order to overcome the above mentioned challenges faced by the industry, and make it more competitive for global market, following policy recommendations can be adopted:
Establish a processing zone in the region, which shall include a modern Industrial structure. This zone shall have:

A small scale power generation unit, for supplying uninterrupted electricity to the industrial units.

A research institute for mineral extraction and processing and testing.

Representative office of KP Mineral Development Department.

Freight Handling & Customs Centre.

For increasing the productivity of the labor force, there is a need of setting up at least one vocational institute in North Waziristan district. The training institute may offer short training courses on mining and other technical subjects based on international standards.

The office of KP Mineral Development Department should offer regular assistance to industry on modern mining techniques, equipment handling, value addition in mine to market and environmental safety.

KP Mineral Development Department needs to prepare an Investor's Brief that clearly quantify / identify the potential of mining minerals in the area, and state the current level of investigation for the total amount of minerals available.

To increase accessibility of local mine and industry owners to finance, KP Government can use following options:

Encourage all state owned and private banks to offer Islamic banking to the local owners.

Offer incentives to the local population living abroad to invest in the local industry.

Expand cooperation with private firms from Italy, Switzerland, Germany etc., who harbor years of experience in mining for grooming the local mining and processing industry.
2.

Oil & Gas
Snapshot
As per KPOGCL reports, Miran Exploration Block has an area of 1064.3 Sq.km, located in North Waziristan agency (85.63%) and Kurram agency (14.37%). Based on surrounding discoveries in Kohat-Bannu basin i.e. Chanda, Mela, Nashpa, Makori, Maramzai and Mamikhel. Miran Block is considered to be prospective. The Block is located about 270 Kilometers from Peshawar towards south-southwest and 400 km southwest from Islamabad. It can be easily approachable by a network of highways and metaled roads from District Peshawar, Kohat, Karak and Bannu, where modern facilities are available due to the current boom of Oil and Gas discoveries in the nearby districts Plans have also been finalized to open an oil refinery in the region. Pakistan along with China looking for double digit growth in the next fifteen years, these reserves can certainly play their role in driving the regional economy.
 Strengths
Reservoirs of oil and gas. Presenting ample opportunities for the locals and economic growth of North Waziristan.
Opportunities
Opportunities available for both national and international E&P Companies, who are interested for Joint Venture in the Block. Farming out its 49% working interest to other E&P Companies to assist KPOGCL regarding Geological, Geophysical and Engineering studies and an initial 1st Exploratory wells drilling program. Work has already started in 2017 leading to the drilling activities in 2018-19. Full program cost (Capex) is estimated at US$ 4 million.
For development of this sector KP government can take the following route:
The Government of the KP along with local or foreign companies should conduct an intensive survey of the area and jot down the exact estimates of hydrocarbons in the region.

Technical Assistance could be sought from US Geological Survey department and KPOGDCL.

Financial assistance could be sought from World Bank or Asian Development Bank.

Investor brief should be prepared after the survey and hydrocarbon hotspots should be identified properly for the investors.

Proper security arrangements be provided to foreign investors willing to drill in the area along with options for insurance.

A special investment insurance program for Energy Sector can be launched for Investors, to woo foreign investors into bringing in their capital.
3.

Conclusion
Owing to militancy and prevailing law and order situation in the North Waziristan for the past decades, the opportunities to carry out businesses were totally closed, however with efforts of Pakistani Government, the district is now returning towards peace. Local folk is returning to their homes and it is expected that due to commercial viability of the available minerals and Oil & Gas reserves, North Waziristan will soon provide essential opportunities of investment, revenue generation and contribution in regional development. FATA Development Authority is in the process of acquiring 500 acres of land to establish Industrial Zone to boost district economy by creating enabling environment for the investors to start industrialization. Furthermore, value addition in Pine Nut (Chalghoza) harvesting and handling value chain is strongly recommended as the area has high production of this fruit.
---